Description
presented by Alpacas of Troy
Featuring Dani Gallagher, Owner of Roaming Soul Apothecary
Date/Time
Sunday, May 28th, 2017
1 pm – 4 pm
Location:
Alpacas of Troy Farm
Troy, MO 63379
This will be a 3 hour event, from 1 o'clock to 4:00 PM.
Cost: $65 per person.
$25 Class fee and $40 material supplies: You will receive Number 9 Needles and 150 yards of alpaca yarn with class registration.
Preregistration is required by end of day December 8th, so that we may prepare for your attendance.
We are located in Troy Missouri. It will be a fun time and there will be alpaca visiting during the class.
Hope to see you there!
About the Instructor: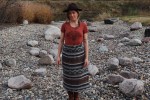 Dani spends her days traveling along and across the Illinois, Missouri, and Mississippi Rivers in the Midwest Heartland, helping homesteads with natural animal rearing using wild plant medicine. She feels most at home walking in a herd of goats, behind her apothecary stand at farmers markets, or with some wool in hand. She has been teaching fiber arts and heritage crafts for the past ten years and currently travels with her herbal medicine apothecary called Roaming Soul. You can find her at farmers markets across the Missouri/ Southern Illinois Region. Although Dani never tires of knitting socks, after 10 years of knitting, she is most excited by learning about knitting traditions around the world, especially Celtic designs with intricate cable work. Stay tuned for her soon to be released website:  www.roamingsoulapothecary.com