Alpaca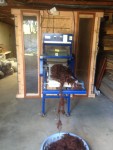 s of Troy is now offering do-it-yourself alpaca fiber processing. We have a industrial washers, Belfast picker, a tumbler, and an electric carder.
There are numerous reasons to process your own fiber. The first is that the cost of processing your own fiber with our equipment is 5 times less expensive than sending your fiber to a traditional mill. Secondly, you can minimize your fiber loss though your own additional efforts in skirting and picking your fiber before it goes through the equipment. This additional step alone can reduce your loss from 20% down to 5%.
We are here to guide you as you start your processing, and will be sure you feel comfortable with the operation of the equipment.
Current price is $5.50 per pound for Huacaya and $6 per pound for Suri.  For this you may pick and wash to your hearts delight: as many times as you feel are needed to reach your desired product.  This takes your fiber to the point at which it may enter a carder. You may choose to use our carder for $.50 per rolag, or many clients have hand carders and take their fiber home to card at their leisure or as clients request.  If you have further questions please feel free to call or email us directly.  We are happy to guide you through this process.
Turn your raw fiber into sell-able product with no wait time currently.